Notice
: Undefined index: option in
/home/u510496/g-hotel.ru/www/components/com_content/views/category/view.html.php
on line
264
Notice
: Undefined index: option in
/home/u510496/g-hotel.ru/www/components/com_content/views/category/view.html.php
on line
269
Dear guests! If You want to travel to Russia, You need a Russian Visa. First, You need an invitation. You can get a Visa invitation online on this site. Welcome to Russia.
The Gulf Stream Hotel Complex has taken the honored 3rd place in the competition called "Blooming Kazan 2014", which was held by the municipality of Kazan.
The mayor of Kazan has noted that the matters connected with land improvement are considered to be of high priority, connected as well with the fact that Kazan is welcoming the Championship of Water Sports next year. "The number of participating countries will be more than of the Universiade 2013. For the whole month the mass media means are going to highlight the events right from the heart of Tatarstan. But our most important guest, including the Championship events will be the citizens of Kazan", - summarized Ilsur Metshin.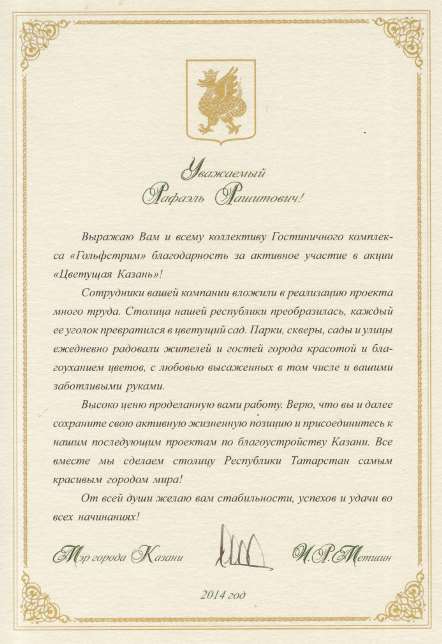 The government of Kazan assume that this is speaking of righteous policy in touristic sphere in the city.
The Kazan Kremlin is in the top ten objects of culture in Russia according to TripAdvisor.ru. This is broadcasted by IA "Tatar-Inform".
The Kazan Kremlin is on the 7th line of Russian national ratings. Also, earlier, TripAdvisor.ru enlisted the city in top 3 cities of Russia judging by its attractivity for tourists.
Evgeniya Lodvigova, the director of Tourism Development Assistance Committee of the executive committee of Kazan thinks that this fact speaks of success in promoting the touristic brand of the city.
According to her words, the city is planning to increase the incoming touristic flow. In 2014 1,7 million tourists visited Kazan, according to the forecast in 2015 this number will reach 2,5 million.
Reminding that TripAdvisor.ru is considered to be one of the biggest resources for travelling. It is represented in 30 countries and there are more than 60 million new visitors monthly. 
The whole article is on: http://kazan.dk.ru/news/kazanskiy-kreml-voshel-v-top-kulturnyh-ob-ektov-rossii-236908821#ixzz3LPCwhvPl